Book Holding CD or DVDs Inside Front Cover
We were asked to finish a casebound book by adding a tray to the inside front cover to hold four CD or DVDs.  To do this we had to die-cut the CD tray made from 1 piece of 2000 micron greyboard, covered in a 120gsm black tinted stock.  Die cut 4 x 123mm diameter circles with thumb cuts. The tray then had to be glued to the inside front cover and a self adhesive vacuum formed CD foam centre in black was fixed to the centre of die cut circle (4 per book).  We glued the trays with a pressure sensitive glue that stays tactile for up to a week.  This meant that, for efficiency, we could glue a couple of hundred trays at a time and then glue them into position.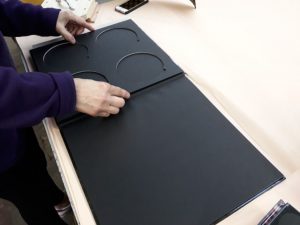 The positioning of the four CD foam centres in 3,000 books meant that we had to perfectly position 12,000 centres. To achieve this we had two wooden tools made that would sit in the centre of the tray with a semi-circular cut-out to enable easy, accurate and speedy placing of the centres.