Bruce Springsteen Book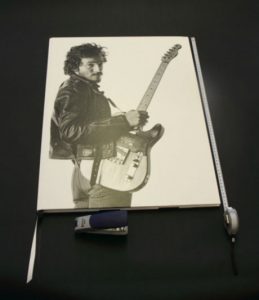 We were supplied with printed sheets and asked to produce a case bound book to a finished size of 600 x 450mm portrait.
The biggest problem we faced was in handling such a huge book.  Most of the operations had to be done manually which meant that there  were far more hand operations involved than on a normal book.
Once folded, the pages had to be inseted by hand to form  sections, they were sewn on our  hand-fed semi-automatic sewing machine, the end papers had to be attached by hand, the book blocks were back lined by hand, the cases were made by hand and they were finally cased-in by hand. The size and weight of the book meant that great skill and patience was needed as we only had one chance to case-in each book block.
Great care had to be taken to ensure all bench areas were kept clean, cotton gloves were worn by all of our staff who had to handle the books and special arrangements had to made to transport them.