The Immaginarium – Fine Art Book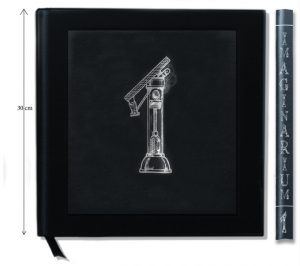 This fabulous limited edition fine art book – measuring 300 x 300mm – has 216 pages printed in five colours with over 150 photos spot UV varnished.  It also has 8 x 4 page throwouts which had to be tipped in by hand.  The front cover had an area that was debossed and had a printed sheet dropped into it.  The first supplies had to be turned round very quickly for the books launch at the Asylum Steampunk Festival in Lincoln.  The book was extremely well received.  Here is a quote taken from a post on the authors Facebook page:
I collected some today and was stunned by the quality, big thanks to Deanprint Ltd for getting some finished in time…….and I was wrong they do not weigh 2 kilos they weigh 2.5 kilos!!
About The Imaginarium
The Imaginarium is the work of conceptual photographic artist Gary Nicholls. It is a Dickens style, dark, steam punk themed story told in a series of fine art photographic based images over three books.  Four years in the making, Nicholls' creation is so much more than just a fine art book – it's an adventure through the power of art that simultaneously tells an epic, powerful story readers will be immersed in from page one.
You can read more and order the book here.