KGT Hugo Beck Shrinkwrap Machine
Upgrading our
 film packaging and post-print processing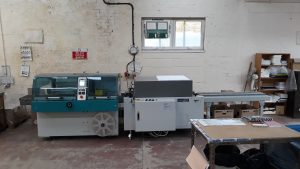 We have just installed a Hugo Beck Flexo 500 S Shrinkwrap machine.  This will sit alongside our two Rapmac Shrinkwrappers and will offer us a far more automated system that will make us around three times faster.  This machine is very flexible and can wrap virtually anything – from a stack of Business Cards to a pair of skis – with no change in the settings.  It can be use across our whole range of services from hardback books to menus and from small note books to large art books.
Even though we have been established for over 100 years we do not believe in standing still.  We  are continually investing to  improve the quality and efficiency of all aspects of our services. This shrink wrapping machine helps us meet individual customer requirements to ensure that their books and printed materials are packaged in the format that suits them and reaches them in pristine condition.
Hugo Beck has been one of the leading specialists in the world for the finishing and packaging of print products for many years.  They provide high end state of the art packaging machines for specific application including print and paper.